Trade, Play, Win! The Arena Games NFT Marketplace: Your New Hub for Rich Rewards
Pioneering the Future of Gaming with NFTs and Blockchain Technology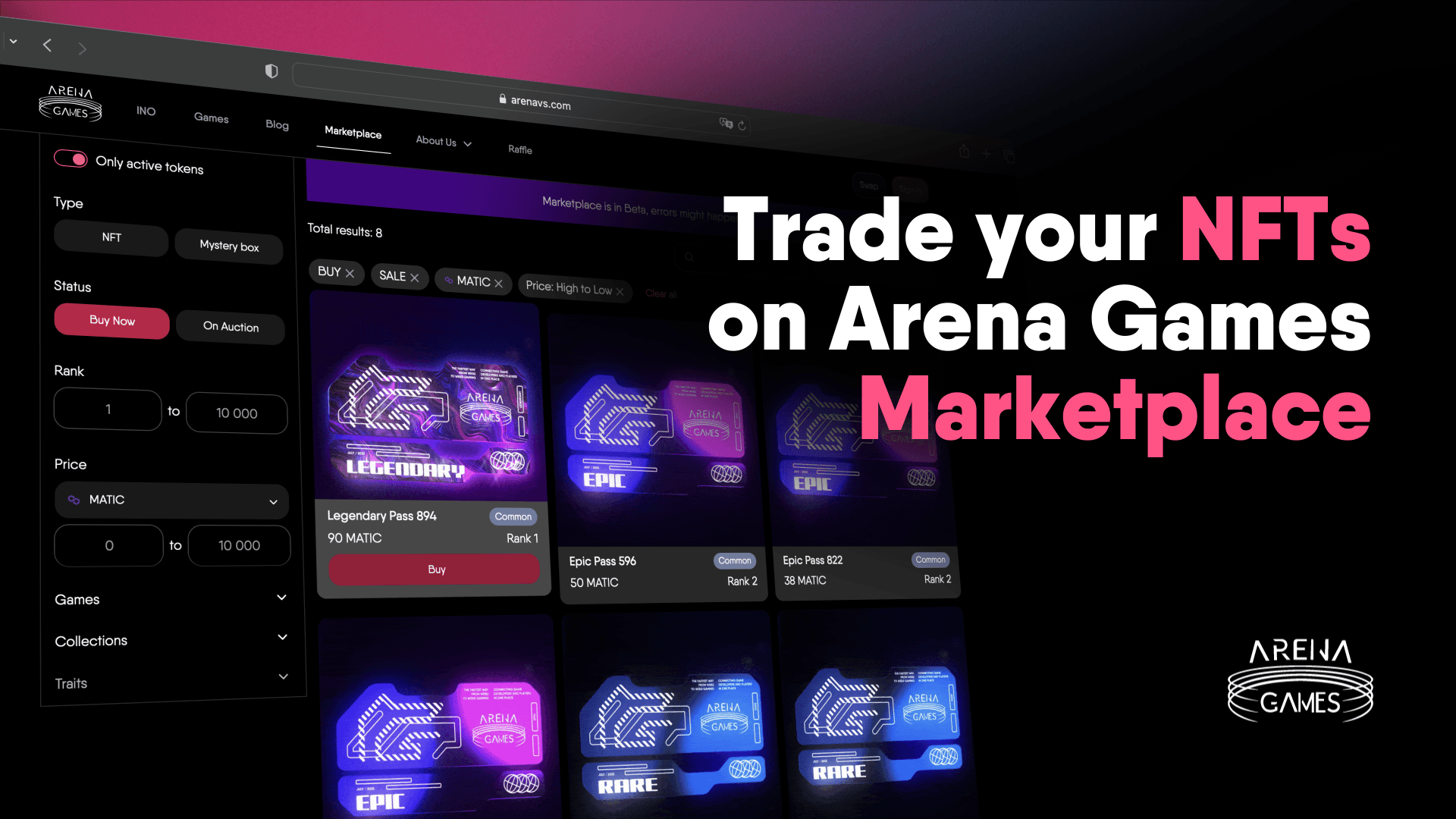 Gear up, gaming enthusiasts! Arena Games is ecstatic to introduce our much-anticipated,
decentralized NFT Marketplace
. Our platform presents a revolutionary fusion of gaming, DeFi, and NFTs, creating an immersive user experience like never before.
What are NFTs you ask? They're non-fungible tokens - unique digital assets backed by blockchain technology. These one-of-a-kind assets have transformed the digital landscape, forging a new path in the gaming world by enabling in-game ownership and real-world economic opportunities for players.
The Arena Games Marketplace has been meticulously designed to facilitate seamless trading of NFTs. With our platform, you can breed, train, and trade your NFTs, laying the foundation for a profitable in-game economy that drives player engagement and adoption.
Dip Yourself in the Arena Games Marketplace
With a focus on decentralization - the heart of Web3.0 gaming - we've ensured our Marketplace paves the way for rapid growth and adoption. A nominal transaction fee of 5% applies to all Marketplace sales and purchases, creating a revenue stream that ensures sustainability.
Users can conveniently log in with their Metamask or OKX wallet and select their game of choice.
Once inside, you'll find:
A comprehensive library of all available NFTs, sortable by various characteristics - type, breed count, edition, cost, and more.

A personal NFT collection that allows you to sell your NFTs on the marketplace.

A real-time transaction list and a dashboard showing recent marketplace transactions.

A leaderboard to keep up with the top players and their NFTs.

A smooth, easy-to-use interface for deposits, withdrawals, and wallet connectivity.
User experience is paramount at Arena Games. We've developed a groundbreaking interface allowing players to create and sell new NFTs. Furthermore, the platform comes with a globally accessible dashboard, providing detailed insights into game numbers. Dive into the action with Arena Games Marketplace. Explore our Genesis NFt Collection, discover new games, delve into our blog, get to know us better, participate in raffles, and make your first swap. Our platform supports a variety of active tokens, transaction statuses, ranks, prices, and rarities to cater to diverse player preferences.
The Arena Games Marketplace isn't just a platform - it's a game-changer, ushering in a new era of gaming. We're confident that our advanced suite of features will provide an unmatched gaming experience, reshaping the gaming landscape, and steering it towards the era of Web3.0.
This is just the beginning, and we invite you to join us in this exciting adventure. Sign up for updates and let Arena Games take your gaming experience to a whole new level.
Got questions? Reach out to us at
[email protected]
or stay connected with us through our social media channels.
Welcome to the new age of gaming. Welcome to Arena Games.