Arena Games Referral Program: Your Pathway to Unbeatable Rewards and Real-World Gains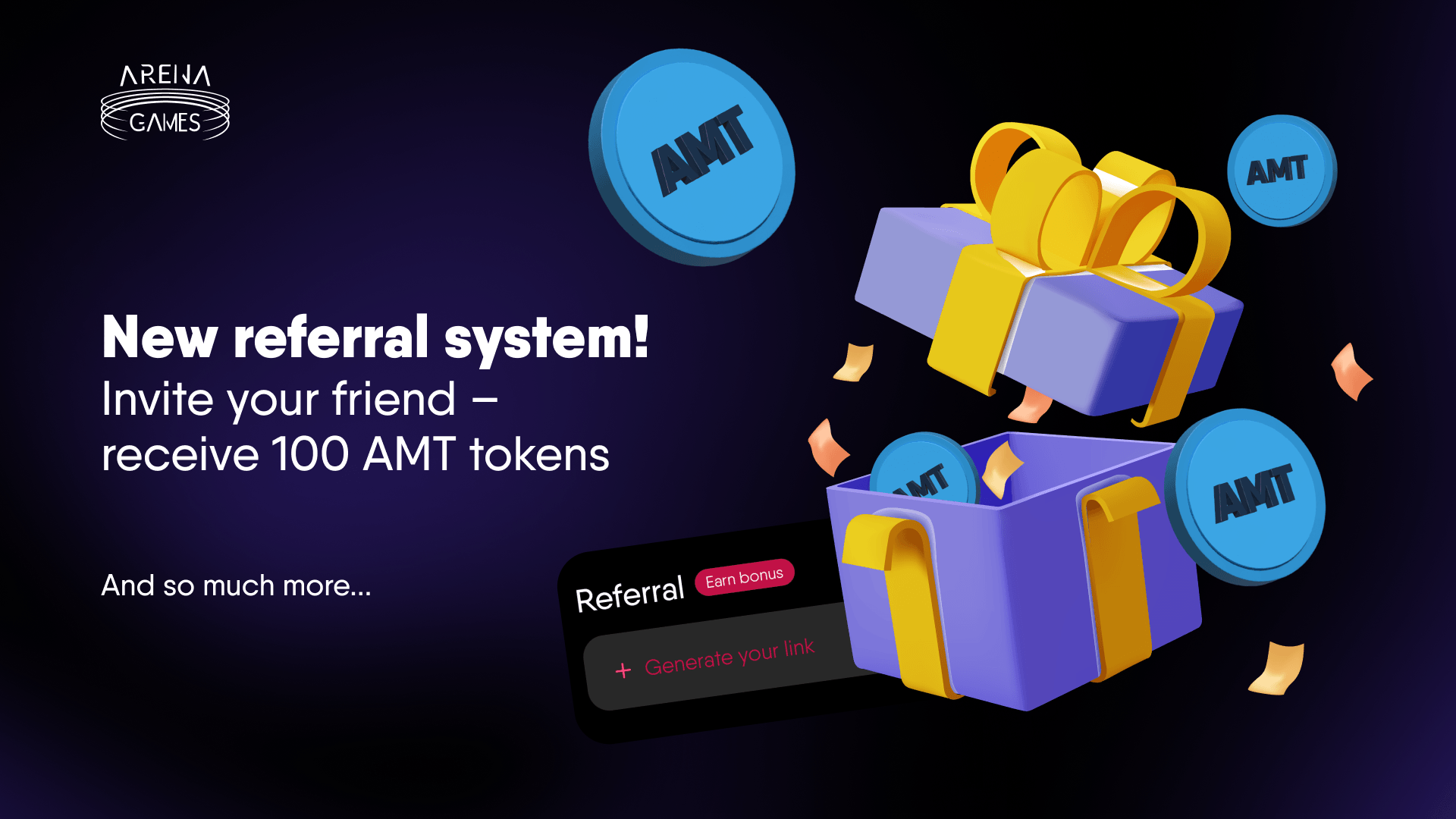 Turn Gaming Into Gains Like Never Before!
Welcome, Arenians! Are you on the hunt for an outstanding gaming experience? What if we told you that now you could transform your Arena journey into tangible rewards? Introducing our newly minted Referral Program, designed to turbocharge your in-game rewards while delivering real-world value. And for the go-getter who gets there first, a jaw-dropping 90 MATIC could be yours! Intrigued? Keep reading.
Why This Matters: Beyond the Game, Into Your Pocket
We're not just offering virtual trinkets. We're talking about genuine, tangible benefits that can enrich your everyday life. With our Referral Program, you're not just a player—you're a stakeholder. Your MATIC rewards can be converted into fiat currency, meaning you can earn while you play.
To make it seamless, we've simplified the process into a few easy steps:
Step Two: Your friend confirms their email. That's it—no hoops to jump through.
Step Four: Watch your AMT reward land in your account.
Reward Tiers: For Every Kind of Player
We believe in rewarding commitment, and the rewards for our Referral Program reflect this:
Regular Players: Earn a straightforward 100 AMT per referral.
NFT Multipliers: Where Your Game Investments Pay Off
Rare NFT Holders: Enjoy a 1.2x multiplier on the 100 AMT.
Epic NFT Holders: Benefit from a 1.5x multiplier.
Legendary NFT Holders: Double your rewards with a 2x multiplier.
Milestone MATIC Rewards: A Step-by-Step Boost to Your Earnings
Refer 20 players: Get 5 MATIC.
Refer 40 players: Receive 15 MATIC.
Refer 60 players: Bag 25 MATIC.
Refer 80 players: Unlock 40 MATIC.
Refer 100 players: An exceptional 60 MATIC awaits.
Early Bird Special: Be the First, Win the Most
ACT NOW!
The first to refer 100 players will earn a monumental 90 MATIC, so there's never been a better time to dive in!
Success Stories: Meet Your Fellow Arena Warriors
"I referred 30 friends and already have 15 MATIC. This is beyond gaming; this is an investment!" — Alex, Epic NFT Holder
FAQs: Your Questions, Our Answers
What's MATIC to FIAT?: Yes, you can easily convert MATIC to real-world currency.
Final Call: This Is Your Moment!
So, Arenians, the choice is yours. Will you seize this unparalleled opportunity?
Click here
to activate your Referral Program benefits NOW!
Your Game, Your Gain—Why Settle for Less?
Our Referral Program
is not just an add-on; it's a revolution. It transforms your gaming into something more—into a true investment, into a way to earn real-world value. Why be just a player when you can be so much more? 
Share, earn, and let the new epoch of gaming begin! 🚀